†
International Truck BODY/Cab RUBBER WEATHERSEALS KIT $1,599.00

THE Best & most correct available anywhere for these trucks!

....................................................................


Save $$ by purchasing our Full Kit that includes these Individual Parts:
†
†
. NEW Inter AA, AB, C & D line FRONT WINDSCREEN SEAL $249.00 (Premium moulded seal, best available!)


†
. NEW International Truck C1100 etc: REAR WINDSCREEN SEAL $199.00


†
†
. NEW International Truck C1100 etc: Premium MOULDED DOOR case SEALS $159.00 the SET of 4. (The 2 Door case main seals & the 2 Door case shorter lower seals) The larger diameter moulded "sausage" section is moulded in LIKE ORIGINAL on our seals made specifically for these Trucks to seal properly! And the sections along bottom of the doors are included too, that others donít even supply at all!


†
. NEW International Truck C1100 etc: Door BAILEY CHANNEL 4 piece SET $459.00 in FULL / CORRECT LENGTH AS ORIGINAL.
Exclusive to Southern Hemi!
Includes: 1 Pair of the Main Door Glass side Window Bailey Channels,
and 1 Pair of the 1/4 Vent to Door Glass Window straight upright Channels
(All Metal backed like original
(The Main Bailey Channels are Not available elsewhere in anywhere near the correct length!)

†
†
. NEW International Truck C1100 etc: DOOR BELT/weather felt seals SET for side glass windows $234.00 (4 pieces, Inner & Outer) quality original stainless steel edged type!

†

†
. NEW

International Truck C1100 etc:

front QUARTER VENT Rubber WEATHERSEALS KIT

$224.00 per four piece SET.
(Upright extrusion rubbers included)

These Premium moulded type 1/4 VENT glass SEALS KITS are made specifically for these trucks. Superior quality!
†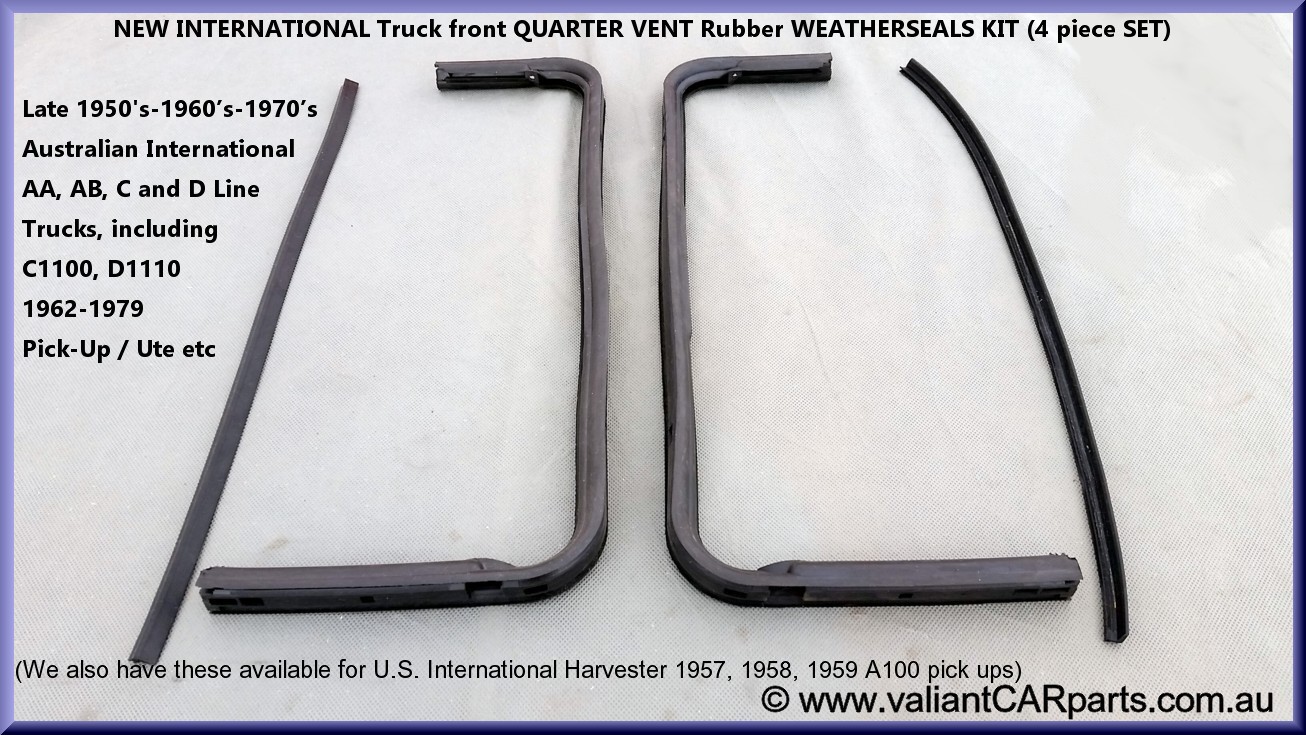 . NEW DOOR APERTURE PINCH WELD CAB BLACK TRIM International Truck C1100 etc: PAIR $79.00 (Both sides)

†
†
. New WINDSCREEN SEALANT large CARTRIDGES $19.50 each
Special/Correct type to suit Classic/Vintage vehicles. (Unlike elsewhere, our full Kits include 2 large 520g premium Mastic cartridges to ensure a complete weather tight seal!)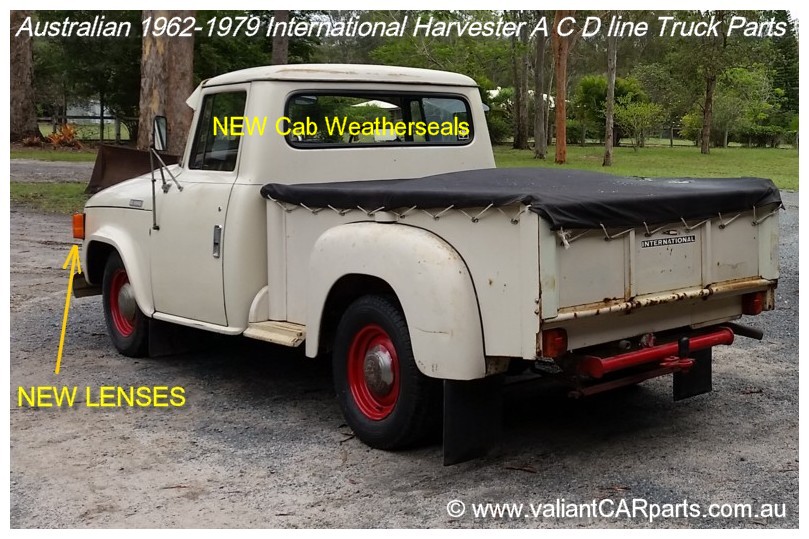 †
---
†
. NEW Australian International C1100, D1110 etc EXTERNAL SUN-VISORS in original SOLID STYLE! $399.00
†
†
---