ABOUT US: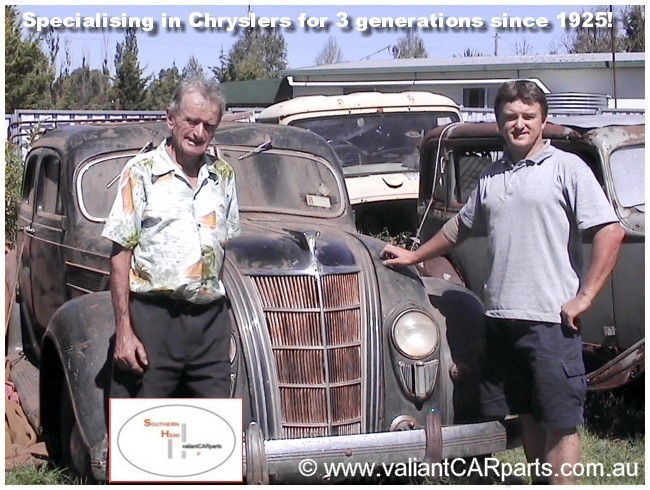 ....................................................................................

SOUTHERN HEMI® are a private family owned/non-profit venture set-up to help offset our own hobby costs, clean-up and clear out excess old parts from our shelves that we no longer have room for following many decades of collecting, and to assist /support friends and fellow vintage vehicle hobbyists /collectors to find the now rare and very hard to get parts for our old antique/vintage vehicles that we all love, in order to assist in restoration and maintenance and keep the history alive!

WE ARE ARGUABLY THE WORLDS MOST all-round EXPERIENCED AUSTRALIAN CHRYSLER RESTORERS & PARTS PEOPLE / Enthusiasts ...

WE STAND OUT FOR OUR VAST EXPERIENCE & RICH HERITAGE BECAUSE ...
WE REALLY ONLY SPECIALISE IN CLASSIC VEHICLES THAT WE PERSONALLY LOVE, OWN, RESTORE, DRIVE & RESPECT OURSELVES! OUR FAMILY PASSION HAS BEEN LIVING, BREATHING & RESTORING CHRYSLERS ETC FOR 95 YEARS!

SINCE 1978 Jeff personally has worked hard doing the right thing, and earned a great reputation (And our family since the 1920's!) as some of the most honest people to deal with in the Classic/Vintage Vehicle scene and we highly value our fellow enthusiast Customers! So please be assured that we always pack items very carefully, and we always personally inspect all items carefully BEFORE dispatch to ensure a quality service.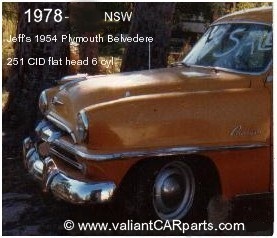 "WE HAVE A RARE & UNIQUE all-round COMBINATION OF EXPERIENCE" that is perfectly suited to this very niche/ specialised area" as we are also expertly trained & experienced in Packing, complete vehicle restoration, car detailing, complete vehicle dismantling & rebuilding, Sheetmetal work. Also: TV/media camera & sound work video editing etc. Fully qualified & certified in Engineering/Metal Fabrication/Welding.
And we are even professionally trained & certified in Computer I.T. to improve your experience and security!

(And no, it didn't come easy, & was a lot of hard work!) :)

....................................................................
We are the Andersen family: Jeff Andersen is a 3rd generation Chrysler restorer, from a 95 year family tradition. Founding member and Ex-President (and at one time vice president) of the original and very popular NSW 'Central Coast Valiant / Chrysler Club' that thrived in the late 1980's and 1990's.

Jeff alone has dedicated many decades of continuous non-profit non-stop years to the preservation of our classic Aussie Chryslers, and since 1978 starting with his first Chrysler in High School (1954 Plymouth Belvedere 251 CID flat head six) & then personally owning over 350 Mopars (Mostly Australian Valiants) and personally restoring most of them, many to exacting original specs from the ground up, and in the 1980's and 1990's personally dismantling many rougher donor cars to save the good ones, while parts collecting all along and often modifying and racing & spending many tens of thousands of dollars of our own money producing Australia & NZs premium range of Chrysler DVDs that were sorely missing in the Aussie Chrysler scene up to that stage to support the hobby & fellow enthusiasts.
As anyone who remembers Jeff's old car crazy father, and Australia's leading REO vehicle expert.

10 things you should know about REO Trucks:
https://youtu.be/pE78h1s--vE

https://www.reoldsfoundation.org/about/#founder

https://en.wikipedia.org/wiki/REO_Motor_Car_Company

and big Chrysler Airflow collector since the 1950s (maybe from the Chrysler Restorers Club in Sydney or from all around Australia) over many decades etc will know... it runs in the family!
Jeff's Uncle Graham modified and raced Plymouths in the 1950's and 60's and many relatives on both sides were Chrysler enthusiasts, owners, racers and technicians going way back to the 1920's. Jeff's grandfather Mervyn was one of the most respected, top mechanics in Sydney many years ago and regularly worked on Chrysler fleets including Police pursuit Chryslers. And even HIS father (Jeff's Great Grandfather) was a leading metal engineer at CSR for many decades. While on the other side Jeff's other Grandfather Hue was also a skilled Sheet Metal Engineer. (Jeff is also originally a fully qualified Engineer by trade)
Jeff's wife Rebecca is a keen Chrysler enthusiast too, and has decades of proper hands-on experience rebuilding and repairing Valiants and Hunters etc herself, and starred as the team mechanic for the all-girl Aussie team in the world-wide TV show and Foxtel/Discovery channel series 'Full Metal Challenge' http://en.wikipedia.org/wiki/Full_Metal_Challenge
Jeff helped Rebecca build the car 'Deflector' from scratch here in Australia and filmed some of the Aussie footage including the build diary and then it was shipped over to the UK where just the girls joined 'Deflector' for the Wild Games!


~ Finally made available by consistent popular request on our 'SHOP' PAGE!...
Southern Hemi ® Resto / Parts Help SERVICE available in Pre-paid blocks of just >10 Minutes at a time.

Well... we're out of room, & wish to re-claim our garage & shed space, so the time has finally come..." We are having a big Parts clean-up SALE!"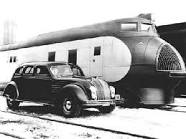 More family HISTORY:

We are related to William Lawson who crossed the Blue mountains.
We are also Australian NSW transportation Pioneers from way back in the horse and cart days including Western Rd Pioneer Teamsters and road transport operators in Northern NSW, New England Motor Co.

The Robinsons Based in Dubbo and Oberon carried the first loads of wool across the Blue mountains from Dubbo to Sydney. Jeff's great, great Grandfather was a Contract Carrier for NSW Goverment Railways construction from Sydney to Gosford. Our family drove original Cobb & Co Coaches at Bathurst and carted materials for the building of Janolan Caves House etc.

And Jeff's father worked for Pykes Motor Services who started the first motor tours in Australia. Chrysler Airflows were used for Jenolan Caves tours.


Peter also even founded the original Historic Commercial Vehicle
A
ssociation
etc etc etc!
---