* Legal Disclaimer:

By using this website you are accepting all the terms of this disclaimer notice. If you do not agree with anything in this notice you should not use our website or services.

* All prices are to be confirmed upon ordering as they can vary according to variables out of our control or outdated listings that haven't finished being updated yet as this is highly time consuming.
......................................................................................
Due to the nature & age of these now Classic/rare vehicles... Generally for most items there are no actual refunds or returns on our parts for sale as even many of the 'new' parts are NOS and have been shelved for years to ensure we got them at best pricing & to ensure best stock available on these parts that are often very hard to find at all these days for these niche classics! And often they are very rare New Old/Obsolete Stock Parts that we have searched the World for over many years using our research and hands-on specialised experience in most of these vehicles & parts accumulated by our family since the 1920s (Most parts have been shelved for decades) Note that specially ordered in, or one off/ not-regularly stocked and advertised items by us, or custom manufactured and/or modified goods are NOT eligible for exchange or credit and we are non-profit and only really do those to assist fellow enthusiasts while we are clearing everything anyway.

Any returns for credit or exchange or manufacturers warranty (IF available on rare brand new ordered in items only) will NOT be accepted without prior approval, and ultimately will be decided by us carefully as we see as fair, using our vast experience in these classic/vintage cars and parts. Any exchange or credit MUST be requested within 14 days of the Invoice/order date and the buyer is responsible for return postage as is standard practice elsewhere. Also goods must be packed safely and returned via a tracked delivery service as a minimum (As they were sent) with the same/original packaging and in unused/resalable condition as we sent them to you. With ALL original bits & pieces that were originally included in the shipment. Insurance is the buyers responsibility like anywhere else and can be requested on any purchase. Once sent, items are out of our hands and responsibility goes to the carrier. and we have no control over this as we are not Couriers or Australia Post.

Items sold are as per our online catalogue details. It is the buyers responsibility to examine all pics and information provided and ensure themselves that parts will fit their particular vehicle and not assume anything as vehicles even in same models can vary greatly. Particularly vintage vehicles as many changes can occur over decades.

Any discussion, text, Hints or information whatsoever provided by us on any page of our website or via communication of any sort is purely our own personal opinion from our own experience and is in no way to be considered as official or legal advice or instructions from us in any way. We accept no responsibility or liability in any way whatsoever, and if you don't understand exactly what you are doing and how to do it safely & correctly/best then you should always consult your own experienced and/or qualified person or business for advice or to complete the work.
.............................

We do not warrant that this website available will be error, virus or bug free and you accept that it is your responsibility to make adequate provision for protection against such threats.
The information contained in this website is for general information purposes only.
And while we endeavour to keep the information up to date and correct, we make no representations or warranties of any kind, express or implied, about the completeness, accuracy, reliability, suitability or availability with respect to the website or the information, products, services, or related graphics contained on the website for any purpose. Any reliance you place on such information is therefore strictly at your own risk.
In no event will we be liable for any loss or damage including without limitation, indirect or consequential loss or damage, or any loss or damage whatsoever arising from loss of data or profits arising out of, or in connection with, the use of this website.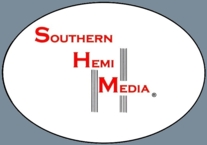 Southern Hemi Media® is a registered Trademark Hot Cars® is a registered Trademark of Southern Hemi®.
VALIANT PARTS and VALIANT VIDEOS!